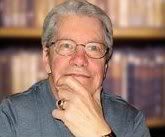 If they want you to stay on the operation table for more than a few hours, they have to inject some pretty hard stuff down your blood stream and it makes you a little crazy… and this won't stop after just a few days… it my case… over a month. This "craziness" is especially concentrated in the words you choose and what come into your mind… that's what happened to me… so no more posting for some times.
Now I believe that I'm almost back to normal… that is, MY normal and not yourselves… so that why I'm seeing just how all this is going to go… Capiche?
We all have some 86 billion of neurons in our brain and when a few of those are still dozing, the rest won't care one way of another… and so it seemed to me. A few weeks ago, I'd want to eat some raisins and asked my wife for some blueberries or I'd want some more coffee and asked her for some more water… lucky for me… her brain is now intact…
Why did I have this operation? The nice Doc told me that if I did not have it… my life may not have stayed with me for a very long time. That was not something I could accept… except to tell her that I was ready… and so it came.
That nice Doc also told me that, some twenty days after this operation, she would want to meet me again. And so I went… and while I was there, I also met this other Doc who told me that he would do some operation in the bottom of my spine… and Danielle (my love) asked him when he's do it. He told her that he's asked his secretary and that she would answer me.
The next day, she called me and told me that it would be this coming Monday, September 23rd. I said, "OK, I'll be right here."
So, in just a little over one week… it's back to the hospital again… but for now, I'm a little more confident… I know that after this new operation… I'll also be a little dizzy… so probably no more Blogging from me for a long time…
But unless nothing happens in that operation… I'll be here… and for some times…
Enter Shamou's forums here.